"Passing Through" Project Statement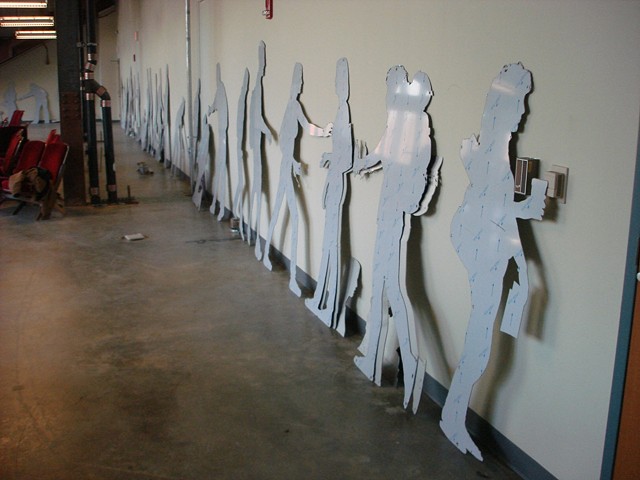 In his history of Tunxis Community College, A Bend in The River, former Tunxis professor Edward Ifkovic suggests that community college is "akin to life on the American western frontier. Out west, in the early days of exploration, no one asked about your past…you were, quite simply, judged by your present behavior and morality." He would tell his students that no matter how horrible their high school transcripts or other transgressions or failures, "we judge you from the eternal Now." Throughout the book, he makes clear through personal reflections as well as through interviews with former Tunxis students that both the students and the college have had to overcome many obstacles in their journeys to achieve their respective potentials. This installation is inspired by Ifkovic's analogy, his history of the school, and the stories of the students who participated in this project.
Passing Through is an installation of silhouettes of human figures hiking and engaging in related activities. Tunxis students have modeled for the silhouettes, making this a community project and connecting the installation to the school's population at the point in its history when this addition to the college was built. The figures all carry backpacks or bags, a reference to the life experiences we all carry with us. Passing Through is a metaphor for the educational experience—for overcoming obstacles, leaving the past behind, and striving for a better future. A web site associated with the project identifies students by their silhouettes and presents their stories.